Niagara Escarpment Biosphere Network on the Rise
16/12/2022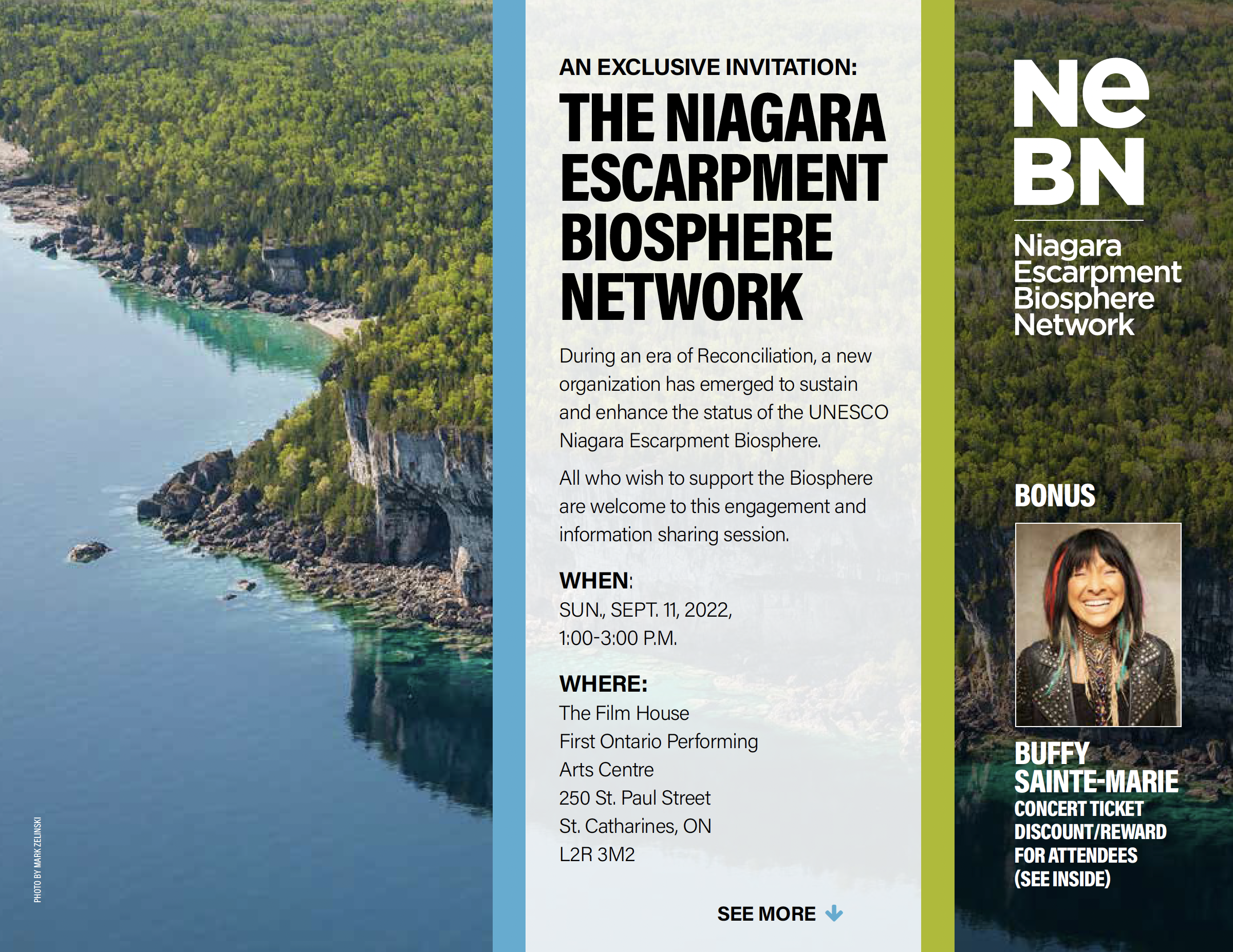 Foremost in the minds of the board members of the Niagara Escarpment Biosphere Network is protecting the sanctity of ecosystems that harbour species at risk and advancing conservation ethics and practice. As the grassroots and community-based organization that maintains UNESCO's mandate and designation of the Niagara Escarpment Biosphere Region, the Network strives to enlighten and inspire everyone to help preserve the biodiversity of life present along one of Canada's most magnificent landforms.
Plenty Canada, with support from Environment and Climate Change Canada, is working to nurture and develop the Niagara Escarpment Biosphere Network. Since its first public launch event held at The Brown Homestead in April of this year, with a second event held at Cape Croker Park in May, the organization has worked diligently to establish a highly credentialed board of directors and identify its operational and program objectives.
Operationally, as a UNESCO biosphere region, the Network has positioned itself at the leading edge of creating an Indigenous co-governance model that both imbeds and ensures that Indigenous leadership and participation are structurally built into the organization. For example, the president and chair of the organization is Patrick Robson, a professor of Environmental Studies at Niagara College. The vice president and vice chair is Charlene Winger-Jones, a water walker and environmental activist from Neyaashiinigamiing (Land Surrounded By Water). The Board includes other Indigenous members and specialists with expertise ranging from municipal government, biology, and community planning to education, conservation, and more.
Cognizant that the Niagara Escarpment Biosphere houses nearly a quarter of Canada's species at risk, where organizations and landowners require support, encouragement, and sometimes guidance to ensure their continued commitment to conservation, the Network is currently collaborating with partners to ensure that varied ecosystems are valued. This includes considerations around gathering data and information to develop maps, information sheets, and signage that connect the public to sensitive and precious environmental areas. Increasing public awareness regarding the importance of biodiversity and its conservation along the Niagara Escarpment Biosphere is critical. It is envisioned that information sheets will also discuss other aspects such as the role the Biosphere plays in climate regulation and the importance of trees and green infrastructure as expressions of climate action.
Since the COVID-19 pandemic arrived there has been an increase in visitors to the Bruce Trail and adjacent side trails and parks. However, most people don't necessarily understand the importance of the Biosphere for conservation and the rich biodiversity it contains. The Biosphere is home to many endangered or threatened species including the Jefferson Salamander, the Eastern Massasauga Rattlesnake, the Southern Flying-squirrel, and the Eastern Pipistrelle bat. Unfortunately, very little signage and information is available along these trails and parks to inform visitors when they are walking through sensitive areas. Furthermore, most people are not aware that they are visiting a UNESCO biosphere region with a core zone; over 76 percent of the Niagara Escarpment being protected for its biodiversity. Considering the pressures for urbanisation and agricultural expansion, it is urgent to improve the awareness of people to better protect these regions that contain a high level of biodiversity, including several species at risk.
These efforts were all brought to the fore during a Niagara Escarpment Biosphere Network conference session held at the FirstOntario Performing Arts Centre in St. Catharines in September. The event featured officials of the Niagara Escarpment Biosphere Network and representatives of network organizations explaining the importance of preserving the Niagara Escarpment. They included Gimaa Kwe Veronica Smith from the Chippewas of Nawash Unceded First Nation, Chief Executive Officer of the Bruce Trail Conservancy Michael McDonald, Network board members Patrick Robson, Tim Johnson, Liette Vasseur, Larry McDermott, Mark Zelinski, Walter Sendzik (then St. Catharines Mayor), and Victoria Serda. Others included Town of Lincoln Mayor Sandra Easton, Niagara Parks Senior Executive Steve Barnhart, and tourism specialist Michael Hallé. The presentations and conversations were deep and extensive. In an effort to address profound and increasing environmental challenges, a program also featured stunning never-seen-before photography and aerial and drone video of the Niagara Escarpment by Mark Zelinski.
Among a range of other activities underway, the Network is conducting reviews and beginning research for the next Periodic Review of the Niagara Escarpment Biosphere Region. These reviews take place every ten years and are required for the maintenance of UNESCO's biosphere designation.
—  Tim Johnson, Bradley May, Liette Vasseur