The Niagara Escarpment Biosphere is managed by the Niagara Escarpment Biosphere Network. A renewed strategic management infrastructure has been developed in partnership with Plenty Canada. The network has established a board of directors that is based upon a co-governance model with Indigenous peoples, and features a diverse group of members from along the Niagara Escarpment from south to north, and north to south.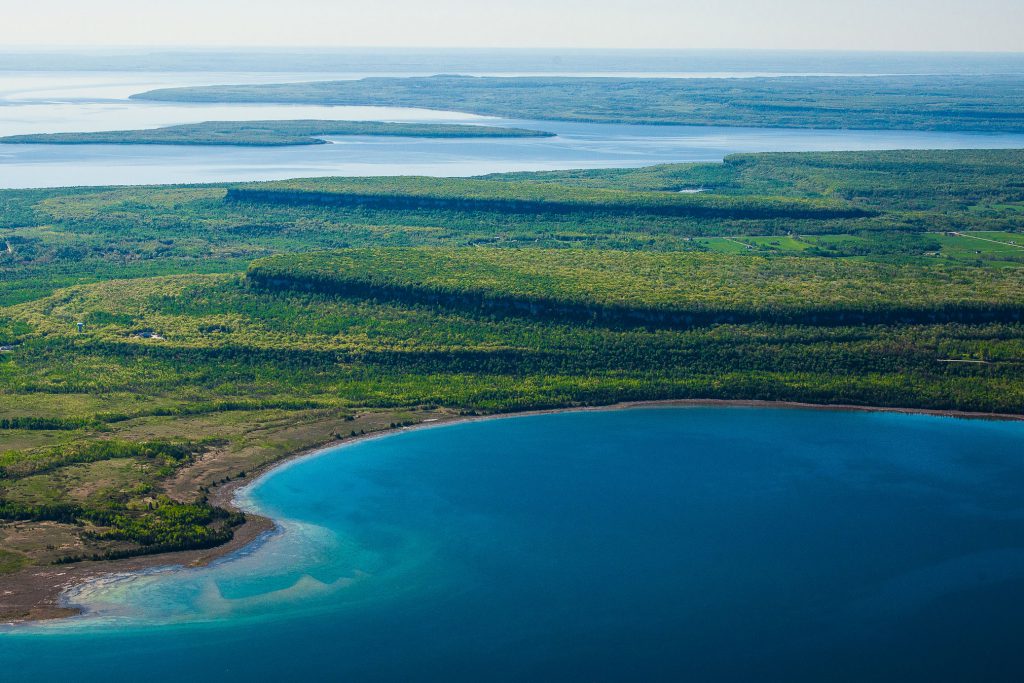 Board of Directors
Norman Ragetlie, is co-chair of the Niagara Escarpment Biosphere Network. He recently retired as executive director of the Rural Ontario Institute where he had also served as director of Policy and Stakeholder Engagement.  In previous decades he led a Community Economic Development unit with the Ontario Ministry of Agriculture and Rural Affairs and was a practicing registered professional planner focused on natural heritage conservation and an award winning participatory sustainable community development initiative in the Region of Hamilton-Wentworth.  A lifelong volunteer Norm served as chair of the Ontario Farmland Trust and was active in the local food cooperative movement, he is chair of the newly formed Intersections Wood Collaborative and a trail captain for the Bruce Trail Conservancy near his home in Owen Sound.
Charlene Winger-Jones, is co-chair of the Niagara Escarpment Biosphere Network. She is an elder, Hereditary Council member, Water Walker & Climate Reality Leader, from Neyaashiinigmiing.
Bradley May, is an adjunct professor and founding member of the Environmental Sustainability Research Centre at Brock University, St. Catharines, Ontario. In 2018, he received his PhD from the Faculty of Environment, University of Waterloo. His research interests are focused on leadership theory as it applies to the delivery of climate services, community climate change adaptation, and resilience-building. Prior to this, he worked for 30-plus years with the Canadian federal civil service. Brad served a program manager for the Adaptation and Impacts Research Division, Environment and Climate Change Canada, based in Downsview, Ontario. Brad is pleased to be supporting the development of the Niagara Escarpment Biosphere Network in his role as secretary, along with related duties.
Liette Vasseur, board member of the Niagara Escarpment Biosphere Network, is a full professor in the Department of Biological Sciences at Brock University, where she is a member of the Environmental Sustainability Research Centre. She holds the UNESCO Chair on Community Sustainability. Her research is interdisciplinary and links issues such as community-based ecosystem management, climate change adaptation and resilience, and sustainable agriculture. Her climate change adaptation research program encompasses different ecosystems from the rural community of Lincoln, Indigenous communities of San Juan, and in the Chimborazo, Ecuador. She is Honorary President of the Canadian Commission UNESCO and deputy chair and vice-chair for North America of the Commission for Ecosystem Management with the International Union for Conservation of Nature (IUCN) and co-lead of the thematic group on Climate Change and Biodiversity Policy and Practice.
Walter Sendzik, born and raised in St. Catharines. In 2014, as a first time candidate for political office he was elected as Mayor of St. Catharines and has served two terms of office. Prior to becoming Mayor, Walter was the CEO of the Greater Niagara Chamber of Commerce. Prior to the Chamber, Walter founded Vines Publishing in 1998, a company specializing in wine and travel magazines and wine books. He sold the company in 2005. Walter has served on local and provincial boards including Niagara College, Hotel Dieu Shaver Hospital, Pathstone Children's Mental Health, the LCBO, and the Municipal Property AssessmentCorporation (MPAC). As Mayor he served as Chair of the Great Lakes and St. Lawrence Cities Initiative Board of Directors, Niagara Regional Housing, and was a member Ontario Big City Mayors.He is currently a board member of the  Niagara Escarpment Biosphere Network.
Victoria Serda, lives in Saukiing Anishinaabekiing in Wiarton, and spends a lot of time on and in the Niagara Escarpment in the Saugeen Peninsula. She is on the board of the Niagara Escarpment Biosphere Network, as well as the Climate Reality Project Canada. In addition, she is a settler ally and treasurer of the Bagida'waad Alliance, which is an Anishinaabe directed and managed environmental not-for-profit led by fishing families in Neyaashiinigmiing, and recently became the executive director of the Bruce Peninsula Biosphere Association. She has been married to her husband Jaime since 1994,has a wonderful daughter Corrina, and enjoys teaching foraging to her four-year-old grandson Creegan, who is a Band Member of the Chippewas of Nawash and an expert in identifying bear corn, red raspberries, and keeshig.
Mark Zelinski, trained as an artist and a designer, graduated as the top student of OCAD in 1979. His diverse career as a professional photographer has taken him across 80 countries, with clients ranging from The National Film Board of Canada to Panasonic. He is also a publisher, writer, painter, filmmaker, Fellow of Royal Canadian Geographic Society, member of The Explorer's Club, and winner of the Canadian Governor General's Medal. Zelinski is best known for his "Books That Heal" initiative, donating 8,000 copies of his photography books to 100 worldwide charities. His internationally acclaimed photography books include forewords by HRH Prince Philip, The Honourable Lincoln Alexander, AFN Ontario Regional Chief Isadore Day, and Justin Trudeau. Zelinski's books Heart Of Turtle Island: The Niagara Escarpment and upcoming sequel Niagara Escarpment: Land Between Waters bring exquisite focus to the environmental treasures of the Niagara Escarpment UNESCO World Biosphere, and to the diverse Indigenous and settler communities that thrive along its rugged, curving path. With ten years, ongoing, of extensive experience studying and documenting the Niagara Escarpment, he applies his knowledge in many ways, including as a member of the Board of Directors of the Niagara Escarpment Biosphere Network. www.MarkZelinski.com.
Larry McDermott, Algonquin, is executive director of Plenty Canada, an Indigenous non-government organization devoted to the protection of Mother Earth, building healthy communities, and promoting cross-cultural awareness of the value of Indigenous ways of knowing to achieve a sustainable environment for future generations. He is also a board member of the Niagara Escarpment Biosphere Network. A former three-time mayor and long-time council member of Lanark Highlands, chair of the Rural Forum of the Federation of Canadian Municipalities, and commissioner of the Ontario Human Rights Commission, Larry is a member of numerous organisations including the International Indigenous Forum for Biodiversity, the Ontario Species at Risk Public Advisory Committee, the Canadian Environmental Network, UNESCO, and the Ontario Recovery Strategy for the American Eel. Larry also has served as a comprehensive claim representative for Shabot Obaadjiwan First Nation, is a certified tree marker and butternut assessor, and holds other environmental certifications. He lives in a 170-year-old log home on 500 acres of biologically diverse Algonquin land along the Mississippi River.
Tim Johnson, is a board member of the Niagara Escarpment Biosphere Network, artistic director of The Great Niagara Escarpment Indigenous Cultural Map, artistic producer of Celebration of Nations, and executive producer of the multiple award-winning documentary RUMBLE: The Indians Who Rocked The World. As the former associate director for Museum Programs at the Smithsonian Institution's National Museum of the American Indian, Tim managed the museum's largest organizational group across its facilities in Washington and New York. A long list of critically acclaimed exhibits and programs were produced during his tenure, creating an era that significantly advanced the institution's museology and reputation. Over the course of his work at the Smithsonian Tim edited, conceptualized, and strategically initiated several Smithsonian books showcasing Indigenous art and history. He also established the museum's Indigenous Community Services department and was co-founder and publisher of the museum's flagship quarterly membership magazine American Indian, now in its third decade of publication. Among his many highly successful Smithsonian programs was the museum's Mother Earth Festival, curated and implemented in conjunction with Al Gore's global Live Earth initiative held on July 7, 2007, which diffused American Indian knowledge and scientific evidence concerning environmental sustainability to thousands in attendance and millions watching around the world. Produced to enhance public education about human induced climate change, it stands as one of the Smithsonian Institution's most widely viewed public programs. As a leading figure who brought the reality and ramifications of climate change to the forefront in America's capital, Tim also served on the executive committee of the Smithsonian's 'Living in the Anthropocene Initiative,' a pan-institutional committee formed to advance public education about climate change and the implications of human conduct on the planet.
About the Board and the Organization
The Niagara Escarpment Biosphere Network is an incorporated not-for-profit under provincial law. It's board of directors currently consists of members of the previous Transition Leadership Committee, members of Plenty Canada who are assisting and advising the NEBN in its development, members who have deep experience with UNESCO, and others selected collectively by the Board of Directors for their credentials and capacities to serve our goals and objectives. Several additional positions remain to be filled, which a Governance and Nomination sub-committee will conduct with the involvement of our network partners. Board terms are for three years. The organization's commitment is to be as transparent as possible while ensuring work gets accomplished efficiently, without political interference, and that reflects diversity, experience, skillsets, professionalism, and functionality.